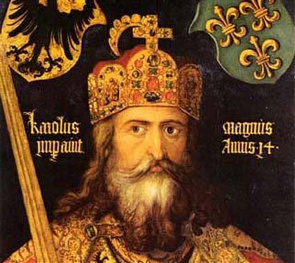 Above Pictured is of King Charles I of France and Emperor the Holy Roman Empire (Charlemagne), he was a grandfather in the Enchanted Family tree. (Is the 31 x great grandfather to Lady Kathleen)
As a result there are many kings, queens, dukes, duchesses, etc. as grandparents and cousins. Some of the characters of our stories:
Kings like Alfred the Great
William the Conqueror
The famous Tudor, King Henry VIII
Queens like Eleanor of Acquitaine
The Current Queen Elizabeth
The Black Knight James Steward
King of France, Hugh Capet
Niall of the Nine Hostages
King of Scotland, Kenneth I
King of Scotland Robert the Bruce
Marcus Antonius
Queen of Egypt Cleopatria
Emperor Of Rome, Julius Caesar
All the King and Queens of England

Magna Carta Signers:
King of England, John Plantagenet
Earl of Norfolk Hugh Bigod
Earl of Norfolk Roger Bigod
Earl of Hereford Henry De Bohun
Earl of Gloucester Gilbert De Clare
Earl of Hertford Richard De Clare
Earl of Lincoln John De Lacy
Earl of Pembroke, Sir William Marshal
Earl of Winchester Saier De Quincy

Men that were considered gods
King of Thrace, Thor the hammer-wielding god associated with thunder
Njord, The Norse God that is associated with sea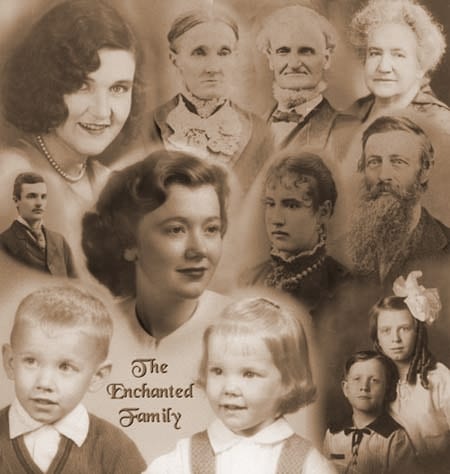 I am Lady Kathleen and this is my family tree.

I hope my tree is intriguing to others like yourself. So weather you are in my family line or not I hope you can find something of interest.
People, Places and Events and keeping it all organized.
There are many historical resources that I have found which can be very helpful when I am uncovering my family's particular history. I start by asking lots of questions: What was happening at that time, in that decade? Where exactly were they living? Is there a history written of that area? What area of the country was being sold or annexed? Where was the seat of government, and when was it established? Where were records kept in that year? Were there newspapers published in those places? Where did ships arrive, and from where? Are there passenger lists available, indexed, online? Oh yes Online is one of my most favorite places to search for information and that is why the birth of the Enchanted Family came to be. I feel I am giving back to others by posting what I have found. I also find that detailing as much as I can about people places and events make my ancestors' history come alive, and
Here at the Enchanted Family I use a program called The Next Generation of Genealogy Sitebuilding (TNG) and I do researching andd store sources at Ancestry website. I try to add stories to the ladykathleen.com website, which is a wordpress website. I have always been interested in history, well maybe not so much dates but the events and stories of the people.

One of my projects has been to prove the fact if your related to one King or Queen you are related to them all. You can find my King and Queens of England and how they relate on this report. I hope to be adding more over time. If your interested in People with Titles you should check that report.
If your interested in helping please check the Most Wanted List
Need your own site then check out Website Tools
or
More Website Tools
Top Surnames in the Enchanted Family Tree